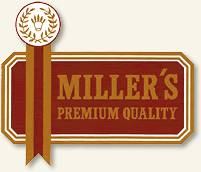 Miller Ham Company takes pride in providing quality hams
and products that will delight your taste buds and win rave reviews at your table.
We may not be the biggest, but we're the best!
Miller Ham Company has delighted our loyal customers with quality hams for over 40 years. The pride in our products began with our founder, Warren Miller. Warren knew his special recipe combining delectable spices and savory smoke would create a flavorful ham that would bring families together around the table. In 1969, with the support of family and friends, Miller Ham Company opened its doors in St. Louis, Missouri. Since then, we have continued the tradition of delivering succulent products that are tender, delicious and full of flavor. Although the demand for our hams is high, we will never resort to mass production to increase our sales. We still use Warren's original recipe and smoke each of our hams for hours in our smokehouse. "We may not be the biggest, but we are the BEST, " says current owner, Ron Miller.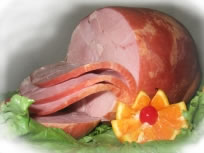 We are certain that once you try our tasty ham, you too will be convinced that it is the very best ham you have ever tasted. A Miller Ham is the perfect centerpiece for your next celebration whether it be a holiday, family picnic, graduation, wedding, or Sunday dinner. Our service personnel answer many inquiries from excited callers anxious to learn where they can purchase our hams. If you reside in St. Louis and nearby Illinois area, we are happy to provide the names and addresses of the merchants in your area who sell our hams. We also ship our products direct to you any where in the United States.
Contact Us
If you have any questions about our products, please contact us and one of our helpful Service Personnel will be happy to assist you. Whether you choose a gourmet ham or a mouth-watering pork loin, we know that you will share our pride in serving the very best. Sit back and enjoy the compliments!
Miller Ham Company
3345 Lemp Avenue
St. Louis, MO 63118
314-776-0190 / 314-776-1321(fax)